With 2011 long gone, another year of good music has passed and with all the top 20 album lists that you'll see on any other hip hop blog I thought that instead of recycling the same albums I'd give you something different, so here goes my list of the top 15 mixtapes/free albums of 2011. (In chronological order)
1) Nostalgia,
Ultra - Frank Ocean (Feb. 18th)
Yes, two mixtapes on the list are "R&B" but just as I felt while listening to The Weeknd, Frank Ocean is in a genre of his own. Ocean isn't just another throwaway singer that gets featured on every rap song (Bruno Mars) he is a bold artist that you would never think came up with Odd Future, but just like them he is making a statement with his unique mixtape
Nostalgia, Ultra
. The sweet jungle drums and acoustics on "Strawberry Swing" introduce a nostalgic sound which is the theme of the mixtape and an important concept of the song. "When we were kids, we hand painted strawberries on a swing/ Every moment was so precious, then" and the song repeats the line "I loved the good times here" dwelling on past relationships and being left behind. From songs of desire like "
Novacane
" and "
Swim Good
" Ocean records emotional journey one dealing with sexual/drug euphoria and the latter moving on from a broken heart. Ultimately
Nostalgia, Ultra
balances dark themes like heartbreak with vivid lyrics and Ocean's vocal diversity. ALSO: I know I said it's a dark album but invite your girl over, light some candles, play "Novacane" and thank me later.
2) Best Day Ever - Mac Miller (March 11th)
Without a doubt, 2011 was a good year for Mac Miller. The 19-year-old Pittsburgh native made a buzz with
K.I.D.S
, a mixtape which showed his natural ability to compliment slow-tempo jazz and speedily rap over up-tempo party tracks. With the release of
Best Day Ever
the sound is more mainstream but Mac Miller's personality and flow still remains. As the opening melody chimes in playfully Miller opens with "never take a day off, work around the clock my engineer getting paid off" and some word play "so high can not see, (nazi) Adolf. From bangers like "Get Up" and "Donald Trump" the energy Mac Miller brings is potent but that doesn't mean he can't pull back for songs like "In the Air", "Snooze", or "Keep Floatin (feat. Wiz Khalifa)" with laid back production from ID Labs that Miller glazes over smoothly. It's not as good as
K.I.D.S.
but
Best Day Ever
got Mac Miller the recognition he needed to get a record deal and blow up the way he did.
3) House of Balloons - The Weeknd (March 21st)
(First reaction: I see a titty! haha.) With the critical praise for Frank Ocean it's only right I mention another singer under Drake and also hailing from Toronto, The Weeknd. There is a lot of mystery behind The Weeknd, even his physical appearance, and that only helped market him even more. The controversial album cover art, the co-sign from a big star, and a falsetto that rivals The-Dreams' was all it took for this 9-song free album to gain popular and critical acclaim; and it did. Like most listeners I came in not knowing what to expect and got an eerie and ambient sounding album with drunk ballads and guitar riffs. An R&B artist in today's world does not have the balls to attempt what the Weeknd accomplishes with House of Balloons and that's because a majority of singers fail to be conceptual without being corny. Songs like "The Morning" still have me singing "all that money, the money is the motive." Comparatively the simple popular hip hop phrase, "Cash rules everything around me" has a similar message and I had the same feeling of new sounds coming through my ears. The Weeknd sings and slowly raps over "Loft Music", "I'm only fuckin 20 girl, amnesia, put your mind in a dream world." The Weeknd brings the listener into this dream world and never lets go.
4) Returnof4eva - Big K.R.I.T. (March 28th)
Who said southern rappers can't be thought-provoking and lyrical? Big K.R.I.T. made XXL's 2011 Freshmen list (Meek Mill & Mac Miller also did) and I had only heard him on Wiz Khalifa's
Kush & OJ
but I never listened to his solo work until I saw all of the love that he was getting for this mixtape so I had to give it a listen. What I've learned just from this mixtape alone is that out of anybody on this list Big K.R.I.T. is the most humble, never forgetting his roots and always showing love to God. Returnof4eva works in slow and dramatic buildups and at its best moments is a reminder that southern soul can be done well. Tracks like "Dreamin'"and "The Vent" really showcase K.R.I.T.'s ability to relate to all audiences and question the current state of the world while "Rotation" and "Country Shit (Remix)" bring that southern trunk music that UGK used to make. The real question is if K.R.I.T. can translate this type of emotion and lyricism into a full album. (fingers crossed) Download his new mixtape 4Eva N A Day.
5) Zero Heroes - XV (April 15th)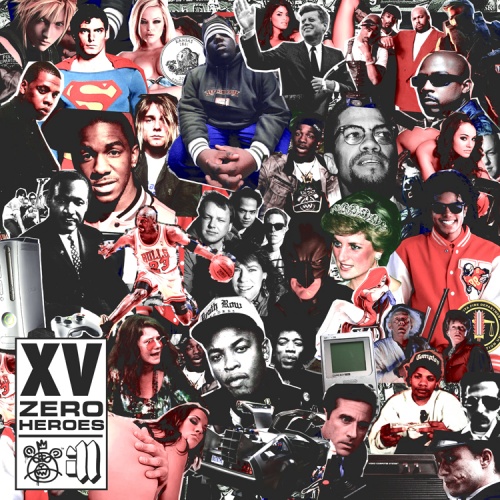 XV is another newcomer that I keep hearing about and after hearing his mixtape I can see why. The star power is there and from the first track "Witchita" produced by Just Blaze where he chants out "Big dreams, big dreams" you can tell this is a small town kid that is driven to have his voice heard. The standout production is handled by longtime Tech N9ne producer Seven and he gives each track enough soul and energy to show the theme of fallen heroes with XV's different flows. The underdog story is presented well much like J. Cole's earlier tapes and XV's puns are enough to keep the listener entertained and while the sped up chipmunk samples that Kanye West made famous can become a bit much there is always a new style XV finds to work with. Overall a good fresh listen full of inspiration like Returnof4eva.
6) Covert Coup - Curren$y (April 20th)
It's not a stretch to say that both of these artists have a lot of history with hip hop. Alchemist is a super producer that is easily one of my favorites for his work with Mobb Deep, Dilated Peoples and countless others. Curren$y, while you may not like him, is always releasing new material including mixtapes and albums and you can always count on him sticking to his signature sound, which is his weakness in some areas. However, Covert Coup is a special case especially with all of the group projects we have seen in 2011. Not only is this a great mash-up because of Alchemist's insanely complimentary production but Curren$y also stepped his game up for this one. I can't emphasize enough how superb the production is, providing gritty sounds and backdrops for Curren$y to ride on. Any person not a fan of Curren$y I suggest this tape to them because they always get caught up in his one note subject matter but this one isn't all about high living it's got a type of sophistication not found on lesser projects from Curren$y. P.S. I ride wit Jets foo'!
7) The Soul Tape - Fabolous (April 21st)
So all Ray J beefs aside, when I found out that Fab's next project was going to be a soul tape, I wondered how he'd handle the switch from the boastful raps he's used to in the "There is No Competition" series. Fab did not disappoint. Through his wordplay and delivery which he is famous for, he paints an emotionally driven mixtape to much avail. The best examples would be "Pain" or "Leaving you" and there is also enough room to add his trademark braggadocio raps, like in "Riesling & Rolling Papers" and "Phone Numbers". Features vary from Vado, Lloyd Banks, Lil Wayne to Trey Songz and Ryan Leslie. Listening to this just reminds me of why I became a fan of Fabolous in the first place. His polysyllabic punchlines in a year of stop flow raps is refreshing and makes this a great mixtape.
8) Elmatic - Elzhi (May 10th) If you didn't already know Nas' debut album
Illmatic
is largely recognized as the bible of rap. With production from DJ premier and Nas' often dark imagery and introspective storytelling of Queensbridge made it a classic. That was 1994. Fast foward to 2011 and Detroit lyricist Elzhi has remade this classic album with new lyrics and live instrumentation from Will Sessions to create, Elmatic, possibly the best mixtape of 2011. Elzhi's lyrics remain unmatched, it gets to a point where he is going on a rhyme scheme and you say in your head he can't rhyme that anymore and he does. Elzhi is in a class of his own and brings the same emotions on every track that the original did but the only downfall is that people will always say the original is better and they should. This is a re-imagining of a classic and aside from the handling of subject matter on "Life's a Bitch", is successful in keeping the same emotion of Illmatic but also adding Elzhi's complex rhyme schemes. To those who used to listen to Illmatic and say "they don't make 'em like this anymore" I say listen to this.
Just a line for you to enjoy. "Chicks give me dome in my home, while I'm sittin spittin poems watchin Conan." (Halftime)
9) Dreamchasers - Meek Mill (August 11th)
MMG has had a big year and that goes for newcomer Meek Mill who released
Dreamchasers
with DJ Drama back in August. He was already riding the success of "Ima Boss" which was featured on the Maybach Music Group album but his solo mixtape told the world more about Meek Mill. The rags to riches theme inspires most of the mixtapes best cuts from "Get Dis Money" to "Dreamchasers" Meek Mill spits with a growl that has been defined in hip hop as "hunger". The production also has a majority of bass heavy anthems such as "Ima Boss (feat. Rick Ross)" and "House Party (feat. Young Chris)" and songs like "Tony Story" show Mill's storytelling ability. My biggest complaint would be that at 21 tracks the production and lyrics can get repetitive and it could have easily gone without a couple tracks including the last few but it still is a good tape to bump to thanks to Meek Mill's energy, which is why I think people are drawn to him in the first place.
10) The Eleven One Eleven Theory - Wale (August 19th)
Wale opens his mixtape
Eleven One Eleven Theory
with an old tupac interview about inspiring someone to change the world and then Wale shows off another one of his spoken word poems with powerful words like "I'm just a artist, I'm just a man. May not change the world but lemme inspire someone who can." For those who like this side of Wale, songs like "Passive Agres-her", "Samples N Shit" and "That Way" will make you happy but the mixtape is a blend of different sounds Wale can comfortably do but lacks the cohesion that
More About Nothing
was acclaimed for. Still, party tracks like "Chain Music" or "Bait" can be found as well as more thematic songs like "Barry Sanders" or "Varsity Blues" add to the story. I still think the production and features could have been better but this mixtape was a good way to keep fans comfortable before his new album was out.
11) Under the Influence - Domo Genesis (Sept. 21st)
Yes, a member of Odd Future made my top 15 list and believe me I was just as surprised as you are. I've probably heard him on a song or two, but not any that would make me listen to his solo work so I don't know why I gave his mixtape a chance but I did and besides Earl Sweatshirt, or MellowHype Domo Genesis maybe the best "rapper" to be a part of Odd Future. The first thing that impressed me with this mixtape was the beat selection. He raps over Snoop Dogg's "Boss Life", Scarface's "Guess Who's Back" and Mobb Deep's "Hell on Earth". All slow beats that he raps over with ease and while the subject matter is a recycling of money, luxury and getting high it works for him. Maybe it was the fact that he has his own style apart from the rest of Odd Future's kill people, burn shit, fuck school attitude, or maybe I was just really high at this time, either way each track is only about 2 minutes long and nothing he does seems forced. Just a great tape to smoke to and vibe to.
ALSO: The last parody skit/track "Smokemon" had me in tears. haha.
12) The Martyr - Immortal Technique (Oct. 27th)
Immortal Technique is a politically conscious and morally committed rap artist who many people largely define as "underground." To me,
The Martyr
served its purpose, a free album for the people, and a mixtape that some will just not like because of its thought provoking content and that is what I have found to be one of the problems with modern rap. The lyricism has dropped to an all time low and the most important elements now have become production and melodies, rather than an artists ability to verbalize an idea. I can assure you Immortal Technique is more than capable of this task. From topics ranging from revolutions ("The Martyr"), the control of big business ("Rich Man's World 1%"), to raising his glass to the dead, ("Toast to the Dead") (prod. by J. Dilla) and individual freedom. What we have here is a "wake the fuck up" mixtape with enough political references and features to back it up. Overall the tone is dark and heavy, as are most tracks in Immortal Technique's catalog, but he does show his versatility and ability to blend with popular and underground artists. Good tape from a legend who holds this tape as a testament to what he stands for.
13) LiveLoveA$AP - ASAP Rocky (Oct. 31)
2011 is a year for artists with distinct sounds and ASAP Rocky is one of the year's stars in that department. A mix between Bone Thugz, UGK and Dipset, the harlem-reppin ASAP crew resembles Cam'ron's click not only in their roots or enormous crew but in the music as well. The mixtape has sounds that circle around trippy, bangin and laid back and they work to make a fun ride. ASAP Rocky has been getting more exposure since the video for "Peso" was released with distinguished visuals following everyday life for the ASAP crew. His newest video "Wassup" is just as intriguing and is based on Rocky's favorite movies. My favorite part of LongLiveA$AP is while you can tell the hip hop influence it is an entirely new sound. From the opening lines of the tape, "God damn how real is this? I know you hoe niggas gon be feeling this", to the best track "Peso", "I be that pretty mothafucka, Harlem's what I'm reppin/ tell my niggas quit the bitchin we gon make it in a second" ASAP stands out as a talented newcomer as long as he sticks with his underground niche. Plus his humble meeting with Rakim is classic! How can you not like this guy?
14) Slime Flu 2 - Vado (Nov. 25th)
Sliiiiiiiiiime!!
With the release of Slime Flu 2 and an absence of Cam'Ron this is Vado's break into solo work and it was a good decision. Sequels are always going to be compared to their predecessors' and Slime Flu 2 holds weight for Vado's rise. Bangers like "Slime Anthem", "
Okay Y'all (feat. Fabolous)
", and "Bed Piss (feat. Raekwon)" brings that old Harlem slang that Juelz Santana and Cam'ron brought in their heyday. He also switched his style and slowed down for a few tracks which made him really shine through. Tracks like "Louis V Bag" (with a nice The Weeknd sample), "
I See You (Black People)
" and "All the Drama".
All in all I leave this mixtape thinking the same thing I did after hearing his first. He has potential and with the right direction he could really make a name for himself in east coast street rap that legends like The Notorious B.I.G. and Big L have. Do I like this one better than the first? I think there are strengths here that are missing in the first one but overall the first one had him guns blazing and had that Cam'ron link that he could've had on the sequel. I leave with an anticipation for something great in the future and enough to hold me off until then.
15) Pabst & Jazz - Asher Roth (Dec. 20th)
Pabst & Jazz is more of a lyrical workout than a conceptual mixtape but there are moments where it shines beyond what most people originally took Asher Roth for. Most people recognize the name from his college frat single "I Love College" which topped billboards a few summers ago. Now Asher is on a completely different level and sound from then and the product is a wild, jazzy, and comedic blend of Asher's capabilities. Out of the long list of features, that do take away from this project, a few memorable appearances come from Action Bronson, Pac Div, A$AP Twelvy and Chip Tha Ripper. My favorite track is Common Knowledge (1st verse is insane!) which has some crazy visuals in the video. Other fun tracks include More Cowbell, Bastermating, and Ampersand. All I can say after hearing this is that with all of the features and some overworking with the production all he needs is a nice sample like Bastermating or a simple loop like Ampersand.With simple but creative production Roth makes it interesting with his knack for connecting otherwise random words that rhyme and make it flow in a compact pattern. This is what rappers should strive to do.
Well, I know this is a few months late but there you have it. The top 15 mixtapes of 2011. (IMO) Comment if you disagree or feel something else should have been added.